RPG Originals
Custom RPG Character Portraits
Welcome to RPG Originals, a site that combines my love of gaming with my love of art! I have been actively gaming since 1981 when I bought my first D&D Basic Set. Remember the good old days when the artwork of Jeff Dee, Bill Willingham and Erol Otis reigned supreme?
Well, maybe I'm dating myself. The point is that a well-crafted character portrait really does help flesh out the entire gaming experience.
Fantasy, Sci-Fi, Historical and Super Heroes
Whatever genre of role-playing game your prefer, RPG Originals can create the perfect character portrait for you. Do you play a burly barbarian, a scheming super-villain, or a sexy blonde-haired fighter pilot? We can draw it all!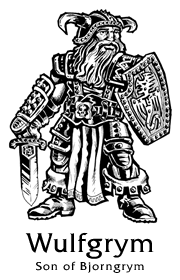 Wulfgrym, Son of Bjorngrym
This is a portrait I created for a close friend who plays a dwarven fighter in the AD&D Forgotten Realms campaign.

Getting Started is as easy as 1-2-3
STEP 1
Email us a very-detailed PHYSICAL description of your favorite character. Write as much as you like. The more you write, the closer we can match your vision. Include important traits such as race, sex, age, coloring, weapons, armor type, special equipment, familiars, tattoos, jewelry, etc. Personal sketches can also be very helpful. but please send PHOTOCOPIES ONLY as I cannot guarantee the safety or transport of your originals.

STEP 2
Choose which kind of finished drawing you would like. Prices are based on a single character (small familiars included) vignette with NO background. Packages include:

$20.00 USD - Pencil Sketch
$30.00 USD - Pencil w/Digital Color
$30.00 USD - Ink Drawing
$40.00 USD - Ink Drawing w/ Digital Color
$95.00 USD - Acrylic Painting

STEP 3
Mail your payment (Cash, Check or Money Order) along with your detailed description to:

RPG Originals
1321 East 300 North
American Fork, UT 84003

Please include an e-mail address or phone number so I can contact you if I have questions. Please allow approximately 2 weeks for your finished artwork to arrive.
Speed Up the Process
Feel free to e-mail me with any questions, comments or special requests. If you can imagine it, I can draw it!